These are just some random thoughts that have occurred to me over the last couple of weeks.
In Wyoming, cattle ranching is a big thing.  As are free ranging buffalo.  So it is not uncommon to see a thirty cars pulled off to the side of the road, while people take pictures of about 30 wild buffalo while  twenty yards away a whole herd of hamburgers on hooves look on, clearly thinking "What the fuck makes those guys so special".  Behold, buffalo butts in all their glory: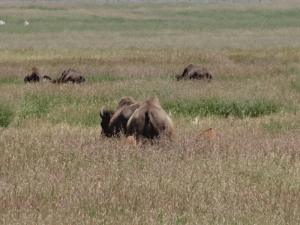 I, of course, didn't bother to take pictures of the envious cows.
There are two kinds of hikers.  First there are those who think that they are hiking for the experience of hiking and who stop every two seconds to go oooh a bird, ooh look at that flower, ooh ….squirrel, ooh I'm dying let's take a break.   Then there are those for whom hiking is a death sport, and who hike as if they will have life points deducted from them if they fail to get to the end of the hike well under the average time it takes everyone else.  Guess which one I am?  Guess which one Hubs is? Apparently hiking is not about the experience. It's about beating everyone else who has ever hiked.  GETERDUN! This is my typical view of Hubs as we hike.  Although this ground was relatively flat so I was actually not as far behind him as I usually am.  Usually I can just dimly make him out, up ahead in the distance.
This is one of those squirrels I saw when I was hiking like a normal person.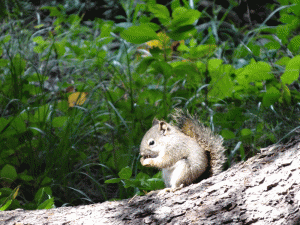 Not having a DVR is a pain in the ass as I am now forced to watch commercials. I really want to know why companies think it's beneficial to them to create obnoxious spokespeople.  It's not like I was dying to go eat KFC prior to watching one of their commercials and now after being forced to watch the new Jackass Colonel repeatedly, I want to set all their franchises on fire.
It's amusing how easy I can earworm my husband.  Just wait til he's concentrating on something else, hum a few bars and he's whistling show tunes all day without quite knowing how it happened.  I don't have a DVR anymore, I have to create my own entertainment.
We finally saw a bear.  On the same day that Hubs forgot to bring the bear spray.  True, the bear was like a mile away and down a valley, but the point is, if the bear had been at all ambitious we'd be dead and it would be all his fault.
There's a deer hidden in these two photos.  First one to find them both gets to take my place on this trip.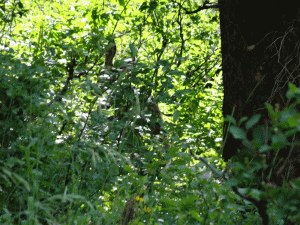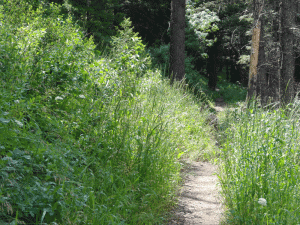 Tomorrow we are going on an overnight camping trip.  I will be sleeping on the ground like some hippie in 38 degree weather and dirty clothes.  Yay…  Of course Glacier National Park is currently on fire because some inconsiderate douche did not manage his or her cigarettes or lit an illegal campfire so it might be cancelled.  I see this as yet another sign that I am not meant to be hiking.