Yes, I know it's been forever and you've missed me something dreadful.   I've been recovering from my husband's last attempt to kill me, which I will refer to forever as Horseshit Hike. (This blog entry will be R rated.  It is impossible to describe without copious amounts of cursing).  Because basically we hiked for miles through horseshit.  Piles and piles of horseshit.   Our overnight hiking/camping hell consisted of a 7 mile hike that took you to a campsite that overlooked an absolutely stunning lake.  Unfortunately the first third of the trail is shared with a horseback riding tour company where they take fatass people who can't be bothered to walk out to see the lake.  The trail is literally a foot wide and every single inch of it was covered inches deep in horseshit and huge puddles of horse piss that were three frakking feet in diameter.  The stench was godawful.  The flies were godawful.  The experience was godawful.  And about halfway into the hike, I realized I was running a fever.  Because, joy, that was exactly what I needed. When we finally arrived at the campsite Hubs busied himself setting up the entire camp while I attempted to retrieve a plastic bag that I'd allowed to blow into the pristine 20 degree lake.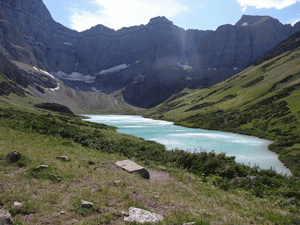 Eventually I had to wade out into the freezing water to retrieve it, because while I am a misanthropic bitch who would cheerfully murder a man just to watch him die, I draw the line at littering.  Once I was no longer hiking, or getting hypothermia, the camping was actually nice, mostly because for the first time in our entire 15 year relationship, my husband cooked our dinner.  Give a man some camping equipment and suddenly he's Julia Child.  Of course cooking consisted of heating up water and pouring it into a bag of freeze-dried food but still, he cooked!   By the next day, my fever was pronounced and we hiked back through Horseshit Hell and the Path of Piss  to home and I basically spent the rest of Montana coughing and wheezing and horking up a lung.  Thus, there's been very little to write about. Actually there was lots to write about, but I felt like crap and could not be arsed to do so.
We arrived in Colorado on Sunday, and I've already been investigating the medical wares so the intricacies of noun-verb agreement and sentence tenses might be escaping me at the moment… look at my hand…it's so … handy.  Anyway on Saturday we are going on a week long hike through the Colorado mountains where we basically hike for 12 miles each day to a different inn.  At least I don't have to sleep on the ground and there will be toilets that flush.  I am fairly confident that this might actually be the one that kills me, so if you never hear from me again, I leave you with these pictures taken from various hikes in Montana that I never got around to writing about.
The above photos were taken at Avalanche Lake.  When I arrived at the lake, I spent about 20 minutes wondering why all the trees were in the water.  I wonder if there's some sort of clue, possibly in the name…
This hike almost killed me ( I know, I say that a lot.  It's always true.) It was practically vertical in the ascent and descent.  The hike did have one thing going for it though.. I finally saw the goats.